I guess it's the aspiring gardener/wannabe plant lady/hopeful homesteader in me, but while we're still in the midst of stupid, 'ol winter, I have been eyeing this botanical tee I spotted on Pinterest months ago, while Christmas shopping.
Wear green things on shirt. Grow green things. This is how it works, yes?
It's got a vintage look to it that I love and since it's likely I was wearing a sweater when I first saw it, I'm sure those short sleeves and artfully depicted flowers gave me tulips bluebonnets for eyes, a la a cartoon character.
I followed a link, which sent me to a blog, where I searched high and low for the info on this tee. I came up with nothing. Oh well. Christmas is busy, and I forgot all about it.
Recently, I saw it again on Instagram, on @cottonstem's page. I love her feed, and her blog! Be sure to go check her out if you haven't yet!
After more investigative internet surfing I found it at Urban Outfitters. (now it's in the comments of her photo) It sells for $34, and since I'm not even cool enough to enter an Urban Outfitters…meh.
Kidding. It's mostly just that I'm cheap. I was now motivated to find a botanical/floral print tee for myself.
Below, I've compiled a list of tees for you that are similar. Most are under $30 too!
This tee comes from wholesomeculture.com and if you have been "with me" long, you know how I feel about yellow. I love the simple look of the flowers and that font adds such a cute whimsical touch. It's currently on sale for $27, but does charge for shipping so it's the only one I've linked here that comes out to more than $30. But, this website does offer a portion of their proceeds to charity.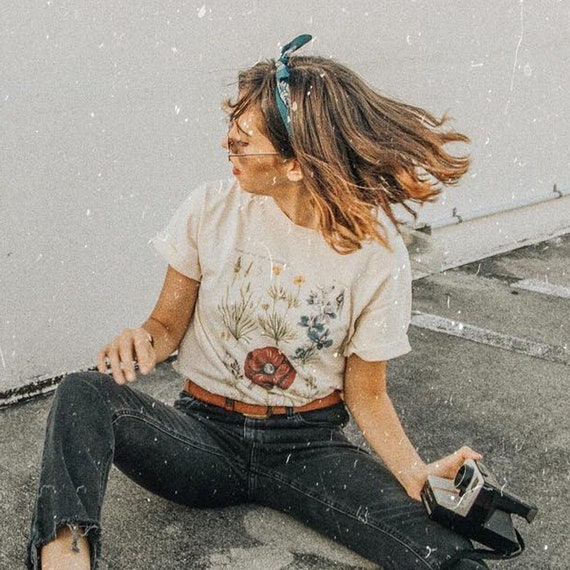 This one is so similar to the Urban Outfitters version, and only $26 with free shipping! I love that large red poppy mixed in with the other flowers.
This tee reminds me of seed packets: "Wear seed packets. Plant seeds."- right?! Unlike most everything on Amazon, this tee does charge for shipping but still stays below $30.
I love the cactus and succulents on this tee! I don't mean to brag or anything, but I have kept a cactus and several succulents alive and thriving.
This is the one I decided on and is on sale right now for less than $20! I loved the pink shade of the shirt with the green, and a few pops of red.
To get me through until warmer, spring days I'll layer it with my denim jacket, or army green button down shirt.
Do you like botanical tees for spring and summer? Which is your favorite? Let me know if you get one, I would love to know what you picked for your own closet!
Thanks so much for stopping by, thank you for reading!!!